As a mom of three, I am certainly in over my head at times. Between homework, football practice, dance lessons, and household chores, I feel like my head may explode at times. It wasn't until I started making my kids do household chores regularly, that my life became a tad easier! I used to feel guilty when asking them to do chores, because let's face it, kids have pretty busy schedules, too! But the thing is, kids need chores to help them grow into healthy, responsible, and mature adults!
This post contains affiliate links which means I may earn a small commission on products that you purchase through the links provided.
Why our children need to help with housework
Chores teach responsibility
When a child has structure and a designated household chore that is done daily, it will eventually become a habit to complete said chore. Kids learn that it will stay messy unless they take the initiative to clean it. For example: cleaning their room. After all, it is their room. Having your child organize their room regularly, should create a lifetime habit of taking pride in keeping their home clean when they are adults.
"Research from a well-known 75-year Harvard study, examined what psycho-social variables and biological processes from earlier in the life predict health and well-being later in life. Researchers found that children who were given chores, became more independent adults." – www.VeryWell.com
It gives them a sense of accomplishment
Whether they are sweeping the floor, folding their laundry, or simply wiping down the dining room table, it will give them a sense of accomplishment and something to be proud of. When children feel a sense of accomplishment, it boosts their self-esteem and confidence! Self-efficiency will improve as children learn and use their abilities to achieve a chore goal. A clean home makes for a happier, healthier family. When a child is praised for their hard work, they will continue to work hard in completing their chores.
Chores implement team work
Children will learn to take pride in helping around the house when they are praised and reminded that completing their chores, helps the entire family. Regular chores give children a sense of belonging, as they are a contributing member of a team. This will lead them to be a hard-working, team member in their adult life, which is so important!
A 20 year study performed by University of Minnesota, showed that the best predictor of adult success, was the age that children started completing chores. Don't fret, though- it's never too late!
Chores teach self-control and good work ethic
Let's be honest, nobody likes to do chores…at least no one I know, does. But they still have to be done! Those dishes aren't going to wash themselves! This is why daily chores will teach your child discipline. They know they must complete a task, even though they may not feel like doing it. Good work ethic and self-control are two very crucial components that children should carry into adulthood, and being responsible for household chores is a good way to teach them these things.
Chores By Age
2-3 years:
Put their toys away
Dusting surfaces with supervision
Put dirty laundry into hamper
Put their books away on shelf
4-6 years:
Chores mentioned above
Help set and clear the table
Help feed the pets
Make their beds with minimal help
Help a parent prepare food
Sweep the floors with supervision
Clean their room with supervision and direction
7-9 years:
Chores mentioned above
Make their bed independently every day
Vacuum and mop with little help
Fold Laundry with supervision
Put their folded clothes in their dresser
Clear table off after meal
Empty indoor trash cans Clean windows
10-12 years:
Chores mentioned above
Take care of personal hygiene
Maintain cleanliness of their room
Be responsible for homework and belongings
Load and unload dishwasher with supervision
Independently wash dishes and put away
Wash, dry, fold, and put away clothes
13 and up:
Chores mentioned above
Responsibly change light bulbs
Mow the lawn with supervision
Independently do laundry
Take the trash out
Babysit younger siblings, depending on their maturity level
Occasionally prepare a family meal
Load and unload dishwasher
Deep clean bathrooms
How to make chores fun!
For youngsters who are just getting into household chores, it may take a lot of praising and rewards. Some examples of rewards you could use are stickers (for preschool age), an allowance, and scheduled screen time. As kids get older, an allowance is a great way to teach them how to responsibly handle money. A 2010 study by Capital One Financial Corporation, found that nearly 50% of high school seniors did not feel competent in handling their own finances. The study also showed that teens who frequently talked to their parents about money, felt more capable in managing their finances. It is important to teach your children how to responsibly save and spend their allowance.
"A general rule of thumb is to pay $1.00 per year of age on a weekly basis. So a 10 year old would earn $10.00 per week, a 14 year old would earn $14.00 per week, and so on. If this seems too high (or low) to you, you can come up with whatever seems reasonable based on how much work gets done (if you link the allowance to chores), how many children you give an allowance to, what your allowance budget is, and what type of allowance system you use"- MoneyCrashers.com

In our house, we like to use chore charts. Charts are a great way to keep your child organized until their daily chores become a habit!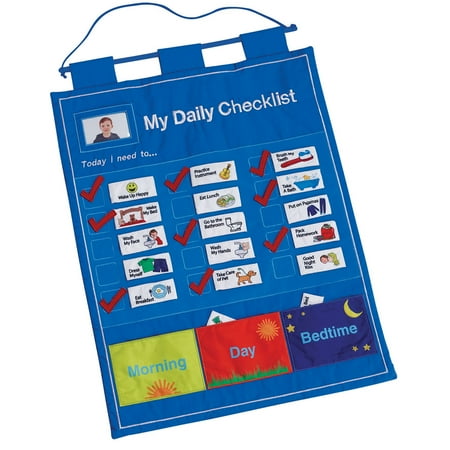 This fabric chore chart helps kids stay on top of everyday tasks, like making the bed and brushing their teeth! You can stick on "hook n loop" activity labels for each time of day, and kids will proudly "check off" each accomplishment. It has built-in storage pockets and a display pocket for a photo of your child or a future reward!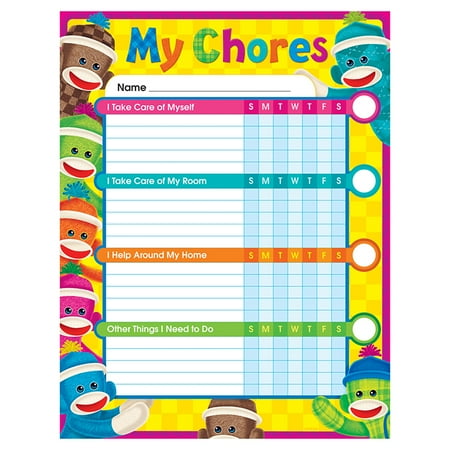 Motivate your child to set goals and track progress in a fun way! This chore chart has open-ended subjects making it easy to customize a chart for every child. Each pack includes 25 charts and 100 Colorful Sparkle Stars Stickers to celebrate success. This is perfect for 2-4 year olds!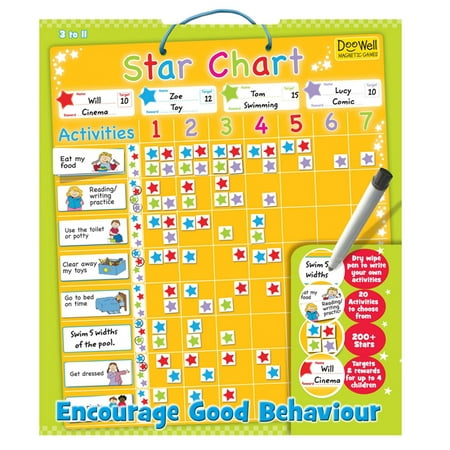 You'll never have to remind your kids to do chores again! Okay okay, making that promise may not be realistic, but you can communicate your expectations clearly with this chart. This magnetic chore chart will let children see how they are doing for the week using a star magnet. Across the very top are spaces to write in 4 childrens names. Each name has a red, blue, green or purple star by it. Write your chores down the left side. There are 20 magnets with chores (and illustrations for early readers) included! My crew uses a magnetic chore chart like this and we love it!

That's a wrap! Does your child have daily household chores?