I've been waiting all year to say this- it's fall, y'all! I don't know what it is about Autumn that I love so much. It just puts me in a cheerful mood, in general- cool mornings, family gatherings, and the leaves changing colors makes for an amazing mountain view, here in the Ozarks. Speaking of Autumn, I'm not sure if there's anything more relaxing than sipping a hot cup of coffee on a crisp, fall morning (before the kids wake up, of course). With that being said, below are four super simple and amazing coffee creamers, that you can make at home!
Pumpkin Spice Coffee Creamer
What you'll need:
1 cup whole milk
14 oz sweetened condensed milk
1-2 tsp of pumpkin spice
To make your Pumpkin Spice Coffee Creamer, grab a pitcher and combine all of the ingredients together. Stir well and be sure to taste test it in a cup of coffee. Depending on how much pumpkin spice flavor you want, you may have to add more. You can store your coffee creamer in a large Mason jar. If you can't tell by now, I am all about some Mason jars! To give your cup of joe a little oomf, top it off with some whipped cream and cinnamon!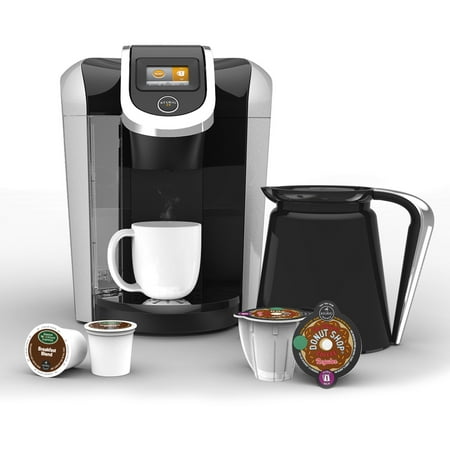 Have you jumped on the Keurig train yet? If not, I highly recommend you do! I absolutely love mine! The Keurig brewing system allows you to brew a piping hot 4-cup carafe with the same ease and convenience of brewing a single-serve cup all at the touch of a button and within a matter of seconds! So simple and way different than an average coffee maker! I am typically the only person in my house that drinks coffee, so having a Keurig definitely makes my life a little easier!

Classic Vanilla Coffee Creamer

What you'll need
1 cup whole milk
14 oz sweetened condensed milk
1-2 TBSP vanilla extract
Make your vanilla coffee creamer by combing all ingredients in a pitcher. Mix well and store in the fridge, in a sealed container. This creamer is one of my favorites! Nothing like a good ole vanilla latte!
Cinnamon Roll Coffee Creamer
What you'll need:
1 cup whole milk
14 oz sweetened condensed milk
1 TBSP ground cinnamon
Combine all ingredients and mix well in a pitcher. The cinnamon likes to clump together, so you may have to give it a good shake once you transfer it into your container. You can add more cinnamon if you like a strong cinnamon flavor!
Salted Caramel Coffee Creamer
What you'll need:
1/4 cup sweetened condensed milk
1 cup whole milk
5 TBSP caramel sauce
1 tsp salt
To make this creamer, start by combining the sweetened condensed milk and caramel sauce together in a pitcher. Mix well then add 1 tsp of salt. Add whole milk and gently stir until ingredients are thoroughly mixed.
That's a wrap! I hope you enjoy these coffee creamers as much as I do! Let me know in the comments below!
This post contains affiliate links, which means I may earn a small commission at no extra cost to you, if you purchase the product through the link provided.