Smoothies are a great way to boost your energy and lose weight! They are full of nutrients that your body needs to keep going and helps keep the dish washing down to a minimum. One of the best things, of course, is that you can drink them on the go. My sister in law recently came over to have a "girls day". It was nice having some adult interaction…Lord knows I needed it! Before coming over, she made a quick stop at the store to get some ingredients to try out some new smoothie recipes. We made a few different recipes, some good…some, not so much. At one point, there was some dry heaving going on, not gonna lie! Since then, I have been playing around with some different ingredients and found my absolute favorite smoothie recipe! It is also great for nursing mamas, to boost milk supply!
This Peanut Butter Banana Smoothie is the bees knees, y'all! It's delicious, filling and packed with protein, vitamins, and antioxidants, which makes it a perfect breakfast! This recipe has spinach and kale, which are super-foods, meaning they have a ton of health benefits, including bone health, glucose control, and lowering your risk of cancer and heart disease. I personally love the flavor of greens, but if you don't, no worries! The banana and peanut butter completely mask the flavor. I even got my husband drinking this, and that is HUGE!
This post contains affiliate links, which means if you choose to purchase a product through the links provided, I may earn a small commission. As always, I will only promote products that I enjoy and recommend.
Peanut Butter Banana Smoothie
Ingredients:
1 banana (chopped and frozen)
1 TBSP Creamy Peanut Butter
1 cup Vanilla Almond Milk
1 cup of Fresh Spinach and Kale Mix
1 TBSP raw oats
Combine all of the ingredients into the blender and blend until smooth. The frozen bananas chill the smoothie and give it a good texture! Remember, you can replace the peanut butter with a healthier option, like Almond butter.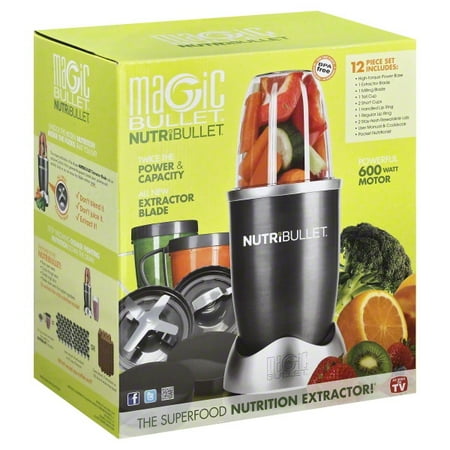 NutriBullet Blender $89.40- This blender is unlike everyday juicers and blenders, as it completely breaks down ingredients into their most nutritious, most absorptive state! Get yours by clicking image.

Plan Ahead for an Easy Week Day Breakfast
For busy weekday mornings, make these freezer smoothie bags! Simply combine fruit, veggies, and oats into a sealed bag. When you're ready to make your smoothie, empty bag into blender then add the almond milk and peanut butter. You can also add frozen berries or other types of fruits to your bag, to change things up a bit. Planning ahead will make your morning a little less stressful!
That's a wrap! Like this green smoothie recipe? Let me know in the comments below!