Some of my fondest childhood memories are cooking in the kitchen with my grandmother. The earliest memory I have is standing on a kitchen chair, pulled up to the counter so that I could reach the mixing bowl. I'd crack the eggs into the batter and grandma was so patient with me as she picked the tiny pieces of eggshell out, one by one. She is person who helped develop my love for cooking. When I reminisce on these special moments, I feel nothing pure joy and warmth in my heart. I can almost smell the homemade cupcakes baking in the oven! This is what I want for my children. I want them to be able to look back on their childhood and feel good about it. I want to create special moments with them and teach them the art of cooking.
Teaching kids to cook has numerous benefits such as boosting self-confidence, helping them become adventurous eaters, and brings you closer together as a family by fostering dinner hour. Studies suggest that eating together as a family often, is a key practice to our children's future. When you sit down and eat together as a family, kids benefit in more ways than one. It can improve academic performance, strengthens family bond, and can model positive eating behaviors.
"We want our children to be confident, able bodied, successful people when they grow up. We want them to know how to cook for themselves, where their meals come from, and what kind of work and preparation goes into said meals!" – homeschoolon.com
This post contains affiliate links. I may earn a small commission on items you choose to purchase through the links provided.
Cooking is a basic life skill that everyone should know how to do and you can start at a very early age!
Age 2-4
Washing hands with supervision
Retrieving lightweight items from fridge and pantry
Open small boxes and packages
Pour contents into bowl
Stirring contents in mixing bowl
Washing produce with supervision
Season food with supervision
Age 5-7
All skills mentioned above
Using can opener with supervision
Stir contents in pot with supervision
Coating raw meat with breading and thoroughly washing hands afterwards
Safely using scissors to open plastic packages
Season food with little supervision
Age 8-12
All skills mentioned above
Start learning how to use a kitchen knife safely and with supervision
Learn to cook meat properly and thoroughly to prevent food borne illness
Know when pasta is al dente
Properly measure ingredients
Read cooking instructions
Safely remove dish from oven with supervision
Age 13+
All skills mentioned above
At this age, depending on maturity level, children should be given the opportunity to prepare an easy family meal independently, but with a parent near by in case of emergencies
Easy Meal & Snack Ideas for Kids to Prepare!
Spaghetti and Meatballs
Grilled Cheese Sandwich
Pancakes and Scrambled Eggs
Smoothies
Tuna Salad Sandwiches
Chicken Salad
Dips, such as Hummus and Guacamole
Simple Veggie Stir-Fry
Homemade Chicken Noodle Soup
Pizza
Cupcakes
Macaroni and Cheese
Tacos
Sub Sandwiches
Oatmeal with berries and chopped nuts
Cheeseburgers
Hot Dogs
Baked Chicken and Veggies
Loaded Baked Potatoes
Cheese Quesadillas
Salad
Make it Fun!
Cooking with children can be messy and chaotic at times. It is important to allow them to practice without being rushed. We like to do it on the weekend, as week nights can be a bit hectic. Always remember to be patient and encouraging as they are learning to navigate their way through the kitchen!
Make a Meal Chart:
In our house, we make a meal chart every month. I write down different meal ideas for my kiddos to choose from. This gives them a sense of independence and ownership and makes them even more excited to cook!
Let them shop for the ingredients:
Before heading to the store, sit down with your child and make a shopping list of everything they will need to cook their meal. This will teach them to be organized and they will feel so big and grown up while putting items in the grocery basket! This is also a great way to teach them the value of a dollar.
Buy some cookbooks and other items to make it fun:
My six year old daughter absolutely adores cook books! She loves flipping through the pages to get ideas. This will teach them to be creative and to push themselves into making something a little more challenging!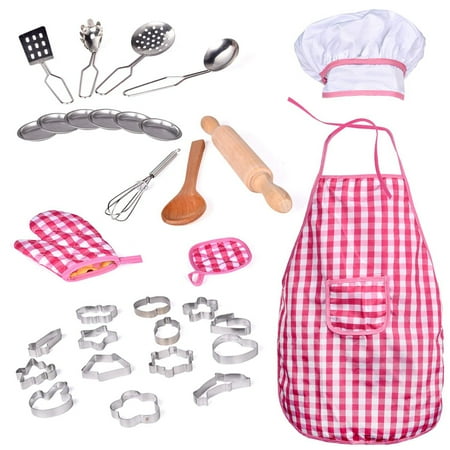 My little girl loves her apron set! It makes her feel like a "real chef"!This particular set includes so many different cooking tools that are perfect for your little one!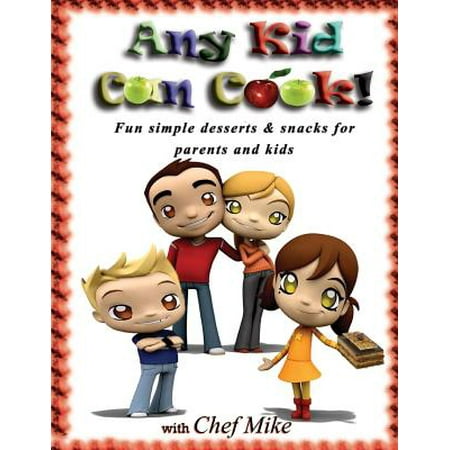 The recipes contained in this book are simple to follow and fun to make. Some require the help of an adult. There are three levels of achievement and certificates of completion to help build confidence. Have fun, because Any Kid Can Cook!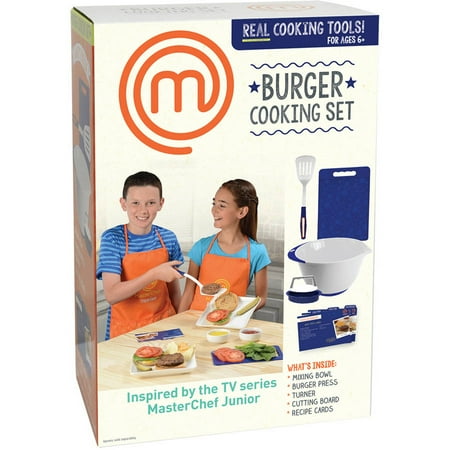 This cooking set includes an apron, cutting board, mixing bowl, measuring cups, measuring spoons, spatula, spoon, tongs and four recipe cards. My daughter flipped when she got her cooking set for Christmas last year!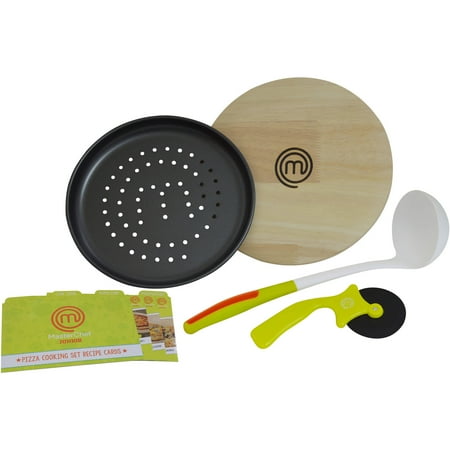 Pizza is one of my kid's favorite meals to make! This Pizza Cooking Set includes a sauce ladle, wood pizza board, personal pizza pan and plastic pizza cutter.

There are so many ways you can make cooking fun! Some kids absolutely love it! But some, like my son, don't care too much for it. It is important to be consistent and keep the mood in the kitchen lighthearted for all involved! Any kid can learn to love cooking and will benefit from it substantially!

That's a wrap! Do you cook with your child?